Our Services
Large and small production runs
OEM Manufacturing
Project quoting
Material sourcing
Contract sewing
Screen Printing
Embroidery
Tensile Testing
FMVSS302 Flammability
Made in U.S.A.
Additional Services
Warehousing & Distribution / Shipping
Warehouse storage, raw materials, finished goods
Logistics support, drop ship to customer
Finished goods blanket orders
Schedule freight preferred carrier.
UPS for smaller orders and LTL for larger ships
Just-in-time releases as you require
What we sew:
With a wide variety of fabrics, hardware options and services. We can help provide input in selecting a material with durability and dependability, to meet the needs of your product. Our vast experience and knowledge of material sourcing allows us to accommodate you with the best sewing services for large and small production.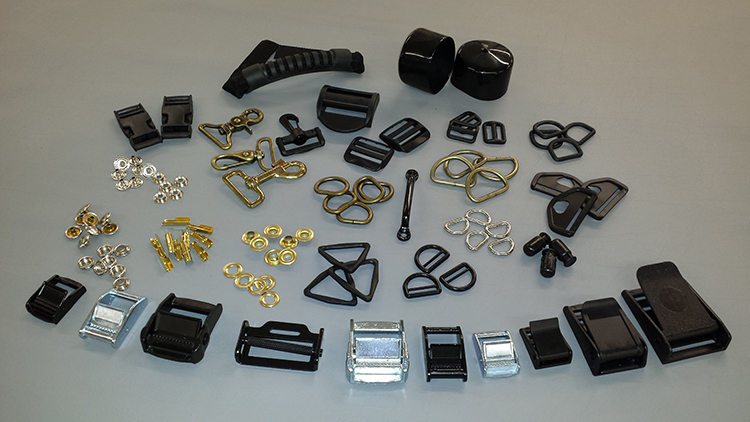 Here is a short selection of materials and fasteners that we work with on a regular basis:
Materials:
Canvas | Cordura | Elastic Cord | Hook & Loop Velcro | Netting | Nylon | PVC Fabrics | Urethane | Vinyl | Webbing – Nylon | Polypropylene | Polyester | Cotton | And Much More!
Fasteners
Buckles – Plastic & Metal | Barbs – For elastic cord | Grommets | Snaps | Zippers | And Many Others!

Our Innovative Process:
At Souhrada Manufacturing, we are committed to each project to ensure superior results. Our Innovated design and development process provides an organized strategy to confirm the highest quality and detail in your product. Our tailor made approach follows a structural architectural prototyping and development phase, to make sure products exceed your expectations.
Our Product Development Process.
Define Your Requirements – The first step we define your specific production requirements and determine a solution that is right for you. This includes fabrics, hardware, stitching and colors.
Concept Review – In this step we review your existing product, concepts, and dimensional drawings which helps us determine the manufacturability of your product in our facility.
Design – Once the solution has been decided on upon, and fits our facilities capabilities, we develop the pattern for prototyping.
Prototype – Two samples are made from pattern. This process allows us to documentate all of the product process. This documentation is review and signed off by Lead Prototyper, Production Manager and Purchasing Manager. We use this documentation for costing purposes, but more importantly, to insure consistent product quality from lot to lot.
Sample Approval – Two samples are shipped to you for production approval. Once approved, you keep one sample for your incoming inspections, and the other is returned to us for our Quality Assurance Department to use in our inspection process.
Production – Now that your product has been inspected, approved and perfected, it's time for production. Your product is submitted to our production department for manufacturing.
Typically in three to four weeks you will be notified that your project is ready to be shipped!

Some of our Equipment:
We have more than a dozen sewing machines that have the ability to convert products across a wide range of materials. Brother, Juki and Mitsubishi industrial sewing machines – Heavy & Lightweight materials, single needle, double needle, zig zag and 4thread sergers.
Our standard & programmable bar tack machines allow us the flexibility to sew a variety of stitch patterns, while maintaining a high level of quality, accuracy and improved efficiency.
We have a wide selection of die cutting tools and equipment that can process virtually any type raw material. Die cutting press, with 60"L x 17"W cutting bed & 28"L x 16"W traveling head.
We are equipped with automated strip cutting machines Hot & Cold, to accurately, efficiently cut any web, hook & loop Velcro and cord elastic.
Our vertical knife cutting capabilities and sixty foot spreading table saves time and money in processing high volume products. High Speed Vertical Knife – Eastman Brute cutting machine cuts up to 5.50" thick.
Drill Marker
Barb Machine
Grommet Machine
Snap Machine